SMU provides a wide range of options for incoming students looking to secure accommodation during their studies with the university.
Prinsep Street Residences (PSR) welcomes applications from both local and international undergraduates who will be studying full-time at SMU for the new academic year. Successful applicants will be informed through email of their application results. Rooms will be ready for move-in from 1 August 2023.
Please note: Residents are required to participate in a compulsory orientation programme. See below for details on the PRINSEP GRANTS awarded to successful applicants.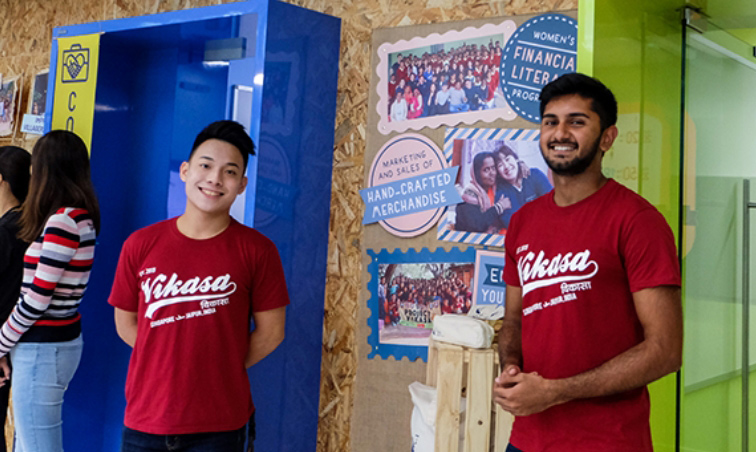 PRINSEP GRANTS
To encourage students to enrich their undergraduate experience with at least a semester of residential living, SMU offers 4 grants:
CIS Residency (CISR) for students enrolled in CIS,
Prinsep Experience Grant (PEG) for Singaporeans and Permanent Residents of Singapore not enrolled in CIS,
Student Leader Grant (SLG) for students who contribute to the social and academic life at PSR, and
 PSR Resident Senior Grants (PSR RSG) for students who serve as mentors and leaders of each of PSR's apartments.
Submission of application does not guarantee an offer of accommodation.
To reflect the diversity in our student population, students of various ages and cultural backgrounds will be roomed in a shared apartment unit. The allocation of rooms is at the discretion of the University and subject to the disposition and needs of applicants.
Please note that some, but not all, ground-floor apartments are wheelchair-accessible. There is no lift access to apartments on higher floors. We strive to accommodate those who need wheelchair access in ground-floor apartments, but this may not always be possible.
Utility charges are collected upfront, which consists of electricity, water, air-conditioning and hi-speed internet. Air-conditioning in rooms is available 24/7.
Room deposit is refundable after settlement of all residential liabilities, and the room/apartment and its accompanying furniture are handed back in their original condition upon check-out.
Successful applicants shall remain in residence for the period specified in the agreement upon acceptance of the accommodation that has been assigned to him/her. No early termination of agreement is allowed except during unforeseeable circumstances (such as withdrawal of course from SMU).
Unsuccessful applicants will be informed of their application status and placed on the waiting list. However, being placed on the waiting list does not guarantee an offer of accommodation.
Advance Payment
Successful applicants are required to pay in advance a portion of Residence Fees (S$1,431.80 for Small Single Room, S$1,508.80 for Large Single Room or S$1,326.80 for Twin-Sharing Room) upon acceptance of the accommodation offer. The advance payment will be used to offset partial room rental, utility charges, room deposit and registration fee. The mode of payment is via Telegraphic/Bank Transfer only. To successfully reserve your accommodation, a copy of the completed transaction slip or payment acknowledgment from the bank should be emailed to the Housing Office by the due date stated in the Letter of Offer.
 
Remaining Residence Fees
For the remaining Residence Fees, the payment for Aug-Dec stay shall be made in mid-August, while payment for Jan-Apr/Jun stay of the following year shall be made in mid-December of the preceding year. Residents will receive an email from the Housing Office per semester for the balance amount and the deadline for payment.
Payment can be made at the Student Services Hub located at 70 Stamford Road #B1-36 (opposite Booklink), from Mondays to Fridays (excluding public holidays), 10am to 5pm.
Payment can be made by:
Cheque – All cheques should be crossed and made payable to "SMU" and in Singapore dollars only. Please indicate clearly your full name, matriculation number (NRIC/SMU/Campus ID Number) and contact number on the back of the cheque. Please allow three (3) working days for Office of Finance to update your cheque payment into your OASIS account
NETs or credit/debit card in person