At PSR, we invite you to be a part of a novel residential concept for students who want to experience an enhanced co-living concept to live, learn, and flourish with your peers. Exercise your independence as you become a contributing member of a community – all in a safe, fun, and centrally located space!
Nestled in the vibrant arts and heritage enclave of the Bras Basah.Bugis Precinct, PSR is just an 8-minute stroll from SMU's vibrant City Campus. Better yet, you'll be surrounded by the best of what Singapore's exciting city life has to offer.

EASY ACCESS TO PUBLIC TRANSPORT
PSR is conveniently served by numerous public buses as well as 6 MRT stations (Bencoolen, Bras Basah, Bugis, Dhoby Ghaut, Little India and Rochor) which links 5 main MRT lines.

FEEL THE PULSE OF THE CITY
Museums, art and educational institutions, food and entertainment outlets, and the main tourist belts of Orchard Road, Bugis Street, Arab Street and Little India are a stone's throw away.
SR provides a home away from home for up to 255 residents with its 23 modern fully-furnished apartments, each equipped with kitchen and dining facilities. Pockets of communal areas within the gated community allows residents to inter-mingle and group study in safe and comfortable space.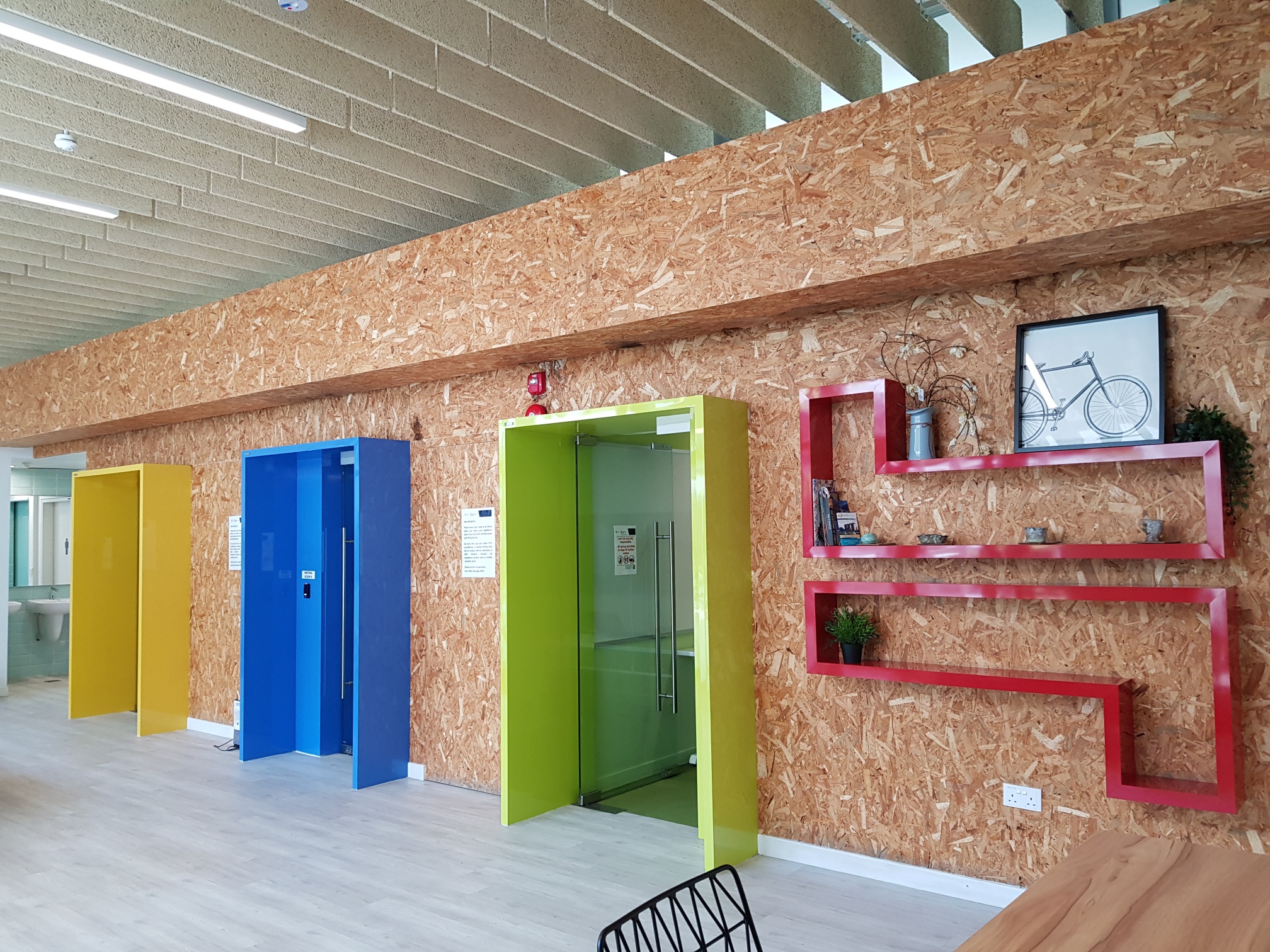 THE HUB
A versatile 20-seater open hall with three 5-seater meeting rooms equipped with tv projection capabilities and dedicated internet connection.
THE DINING HALL
A place where students could hang out over meals or study alone or in groups. There is easy access to a pantry and it accommodates up to 90 people. Great venue to host big group events as well.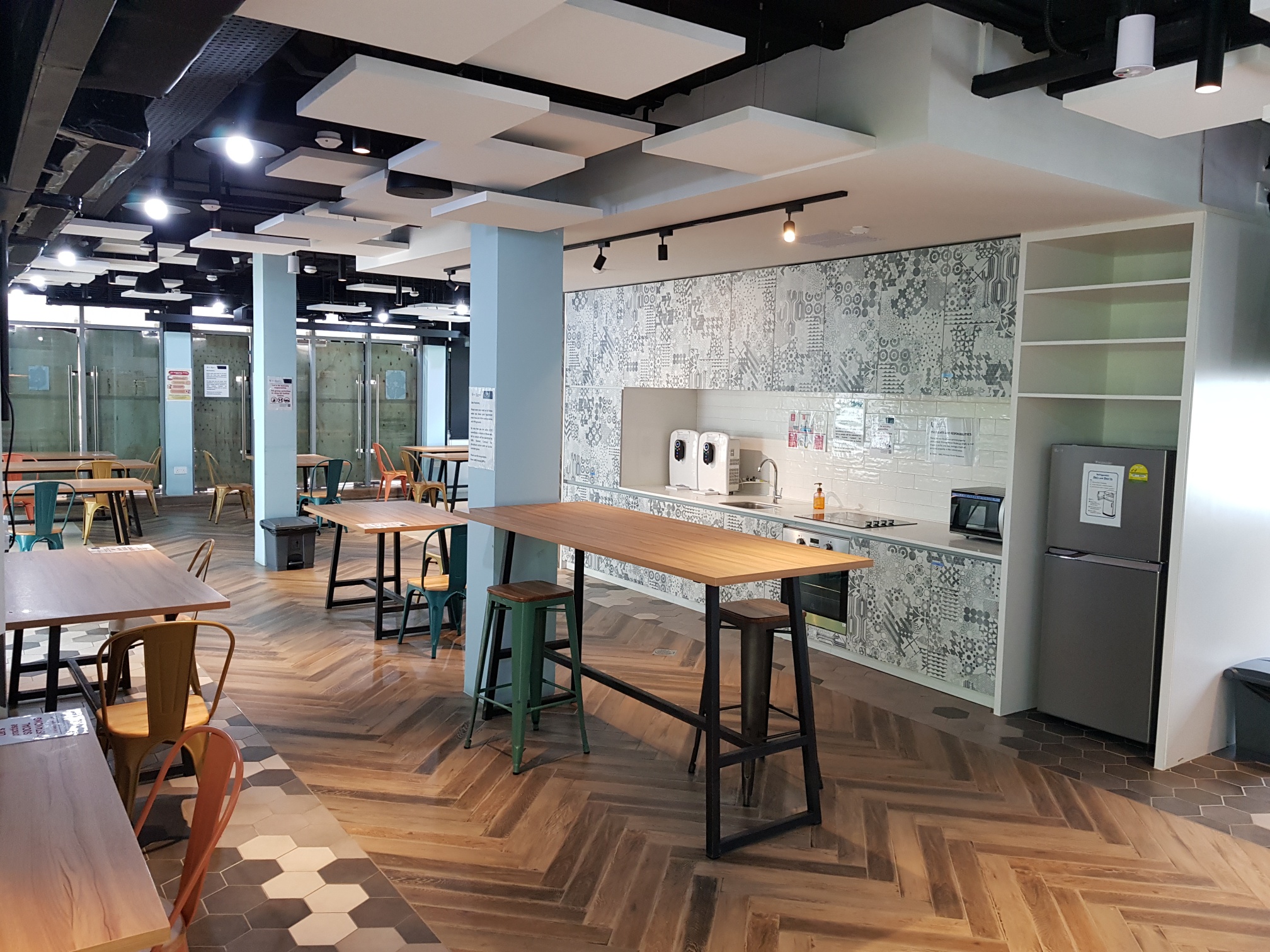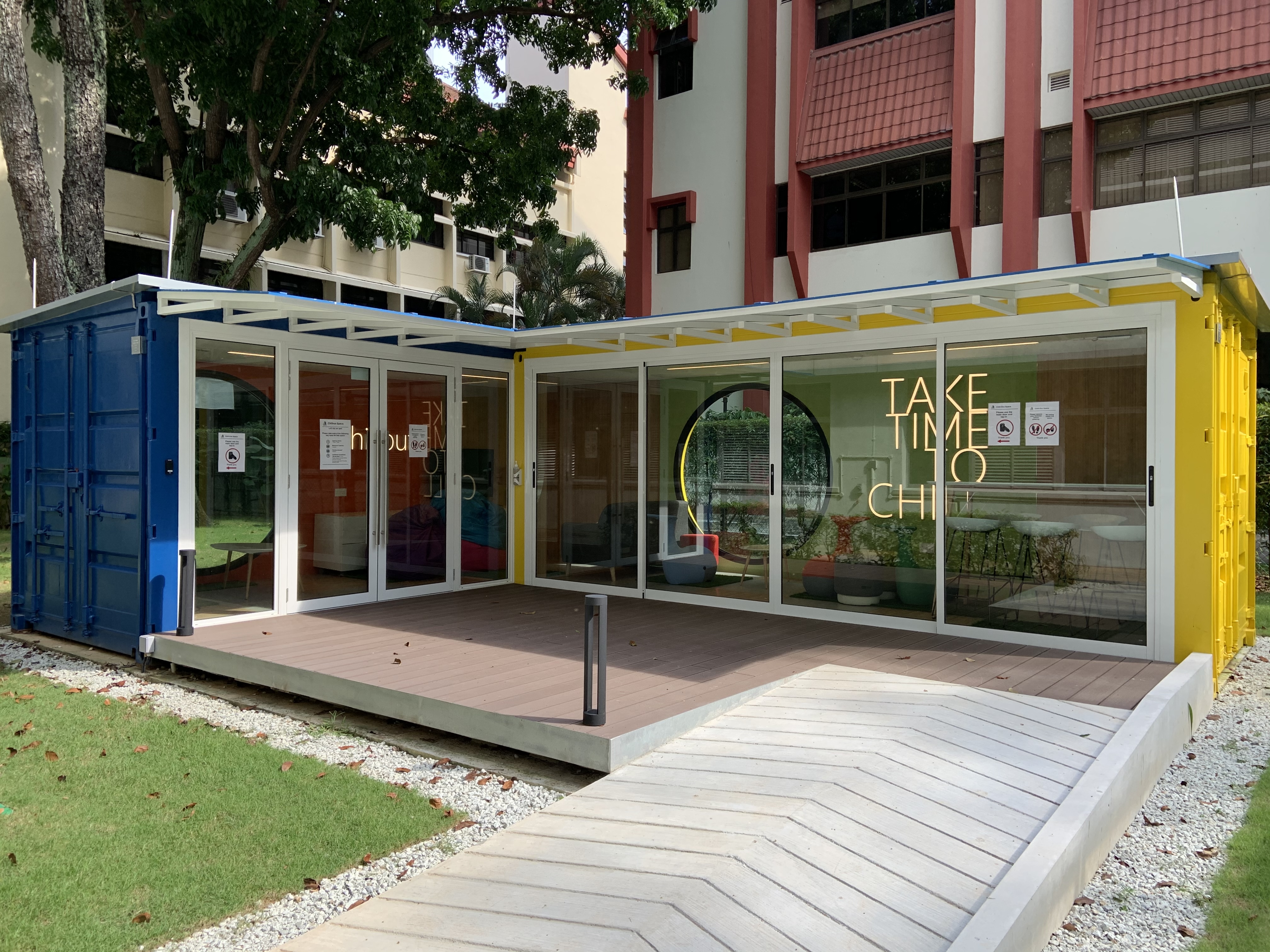 CHILL-OUT SPACE
Students who need to take some time to mediate, refresh, or play games can come to the Chill-Out space for some much-needed self-care.
PSR CLASSROOM
A classroom with state-of-the-art equipment. Come watch movies, practice your group presentations, or study in a quiet space right here. A handful of modules from the College of Integrative Studies (CIS) are also held right here, at the convenience of your doorstep!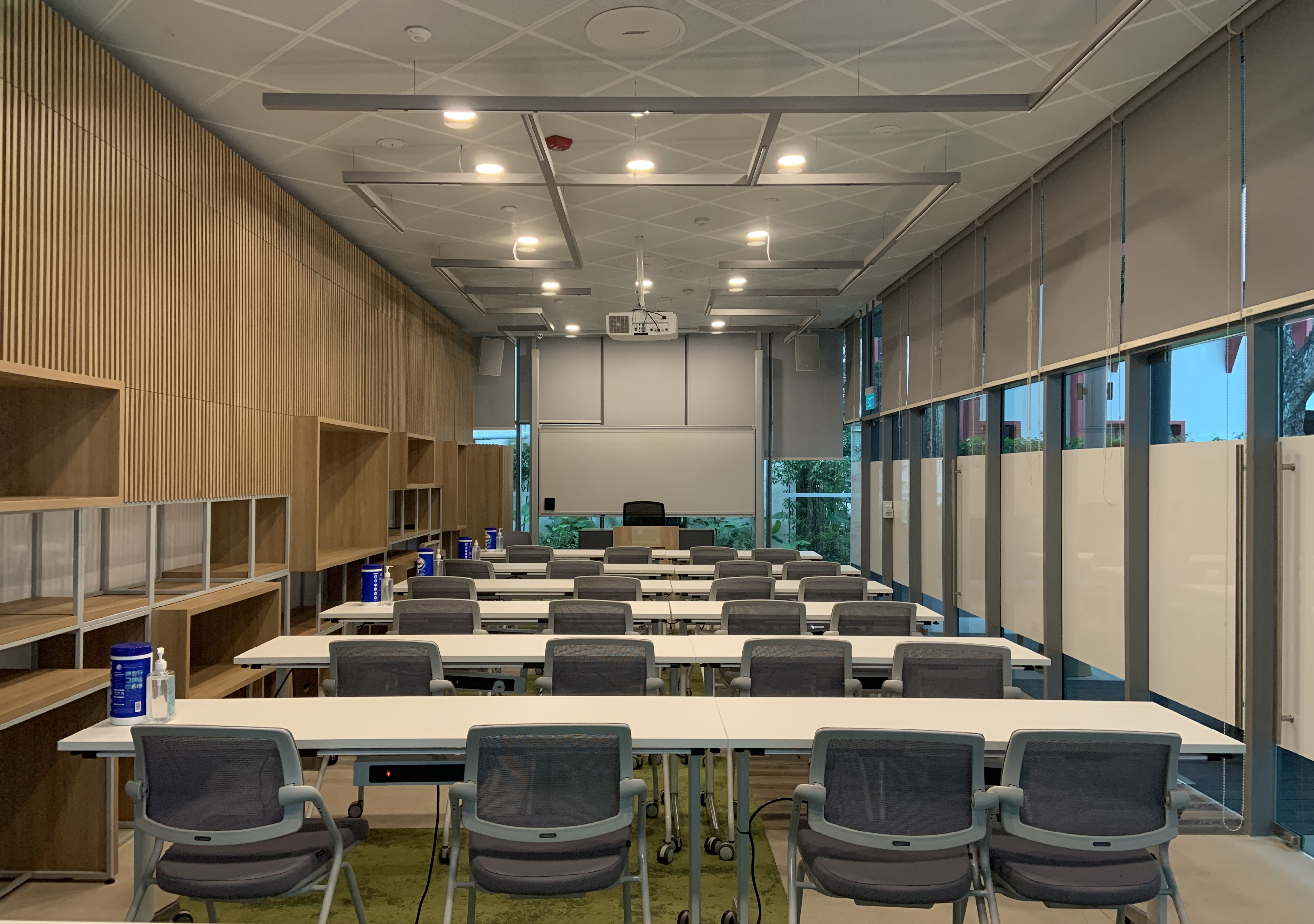 BASKETBALL COURT
Exercising the mind must be buttressed by the exercise of the body! Use the basketball court for some HIIT training or a pick-up game with your fellow PSR residents.
ROOFTOP DECK
Spend the few hours in the evening breathing some fresh air at our open space on top of the HUB.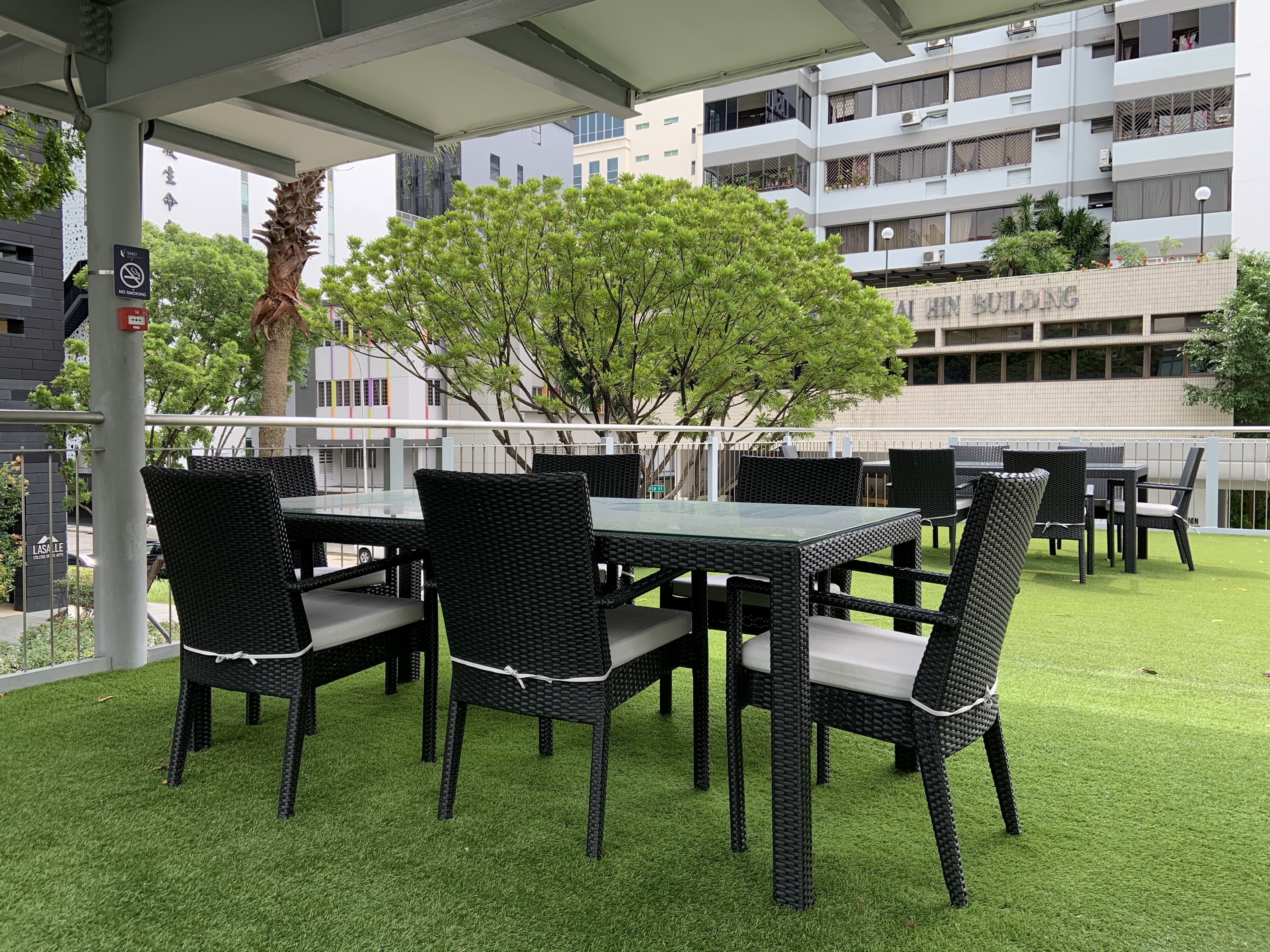 APARTMENT AMENITIES*
---
8 x Single room

Sitting area

2 x Twin sharing room**

Dining area

Study desk

Microwave and fridges

Built-in wardrobe

Common toilet & shower rooms

Air-conditioning

Accessible rooms available

Ceiling fan
COMMUNAL FACILITIES*
---
Hi-speed internet

Sports court

Laundromat

BBQ pits

Covered linkway

Roof terrace

24-hr security
* There is no lift access to the apartments, but all ground floor apartments are wheel-chair accessible. As part of independent living, residents will have to do their own housekeeping in the apartments and no bedlinens, kitchen utensils or bathroom amenities are provided. Meals can be prepared within the apartments or in the dining hall. There is no curfew for residents, but visitor hours end before 12 midnight.
Prinsep Experience Grant (PEG) recipients (local students not from the College of Integrative Studies) will be entitled to 30% off the monthly accommodation rate.
CIS local students will be entitled to 50% off the monthly accommodation rate. 
CIS international students will be entitled to 25% off the monthly accommodation rate
Room Dimensions
7.0 - 7.2 m2

Semester 1

5 months

1 Aug 23 – 26 Dec 23

Semester 2

4 months

2 Jan 24 – 30 Apr 24

Semester 1+2

9 months

1 Aug 23 – 30 Apr 24

Academic Year

11 months

1 Aug 23 – 28 Jun 24

Rate per bed
$698 per month
$3,377.42
$698 per month
$2,769.48
$698 per month
$6,282.00
$628 per month
$6,866.13
Utility charges
$317.42
$260.28
$590.40
$717.23
Room deposit
$650.00
$650.00
$650.00
$650.00
Registration fee
$18.20
$18.20
$18.20
$18.20
Total Cost

$4,363.04

$3,697.97

$7,540.60

$8,251.56
Room Dimensions
7.9 - 10.2 m2

Semester 1

5 months

1 Aug 23 – 26 Dec 23

Semester 2

4 months

2 Jan 24 – 30 Apr 24

Semester 1+2

9 months

1 Aug 23 – 30 Apr 24

Academic Year

11 months

1 Aug 23 – 28 Jun 24

Rate per bed
$775 per month
$3,750.00
$775 per month
$3,075.00
$775 per month
$6,975.00
$698 per month
$7,631.47
Utility charges
$317.42
$260.28
$590.40
$717.23
Room deposit
$650.00
$650.00
$650.00
$650.00
Registration fee
$18.20
$18.20
$18.20
$18.20
Total Cost

$4,735.62

$4,003.48

$8,233.60

$9,016.89
Room Dimensions
11.6 - 14.5 m2

Semester 1

5 months

1 Aug 23 – 26 Dec 23

Semester 2

4 months

2 Jan 24 – 30 Apr 24

Semester 1+2

9 months

1 Aug 23 – 30 Apr 24

Academic Year

11 months

1 Aug 23 – 28 Jun 24

Rate per bed
$593 per month
$2,869.35
$593 per month
$2,352.87
$593 per month
$5,337.00
$533 per month
$5,827.47
Utility charges
$317.42
$260.28
$590.40
$717.23
Room deposit
$650.00
$650.00
$650.00
$650.00
Registration fee
$18.20
$18.20
$18.20
$18.20
Total Cost

$3,854.97

$3,281.35

$6,595.60

$7,212.89
Rates are inclusive of Goods and Services Tax (GST) and subject to change without notice
Utility charges include electricity, water, air-conditioning and high speed internet.
Room deposit is refundable after settlement of all residential liabilities and room/apartment is returned in original condition
Registration fee is payable for each successful application
Information is accurate as of January 2023